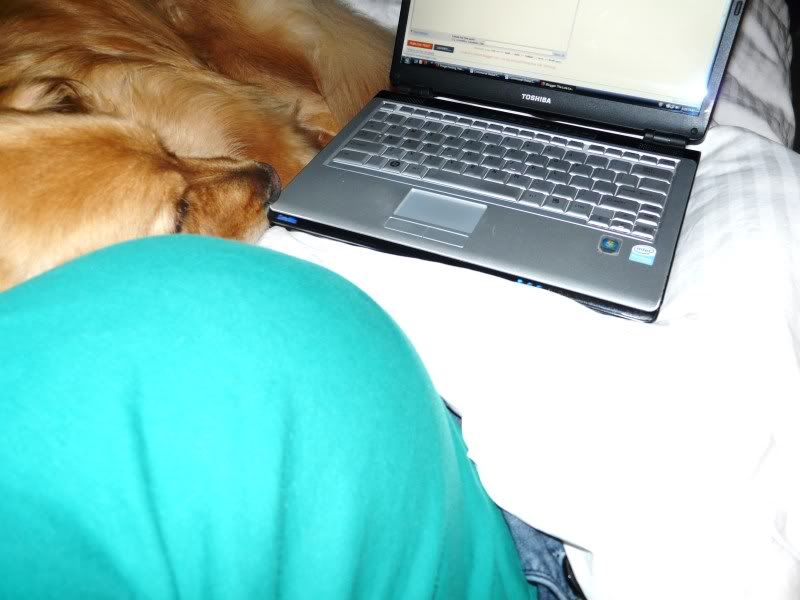 Last night around 4:00 a.m., I woke up spooning an 80 pound Golden Retriever.
He is terrified of lightning storms, and we had a real doozy last night.
It made me really, really happy.
It reminded me of those magical months after we switched Kort from a crib to a toddler bed.
Every night around 2 a.m., I'd hear little feet stumbling towards my bed
and then I'd feel a cold little finger poke into my forehead.
I'd open my eyes and find big eyes, round cheeks, and pouty lips 2 inches from my face.
"Mom, I'n cared." he would say.
Then I'd pull him into bed with me and we would both be back asleep moments later.
Isn't feeling needed one of the best things ever?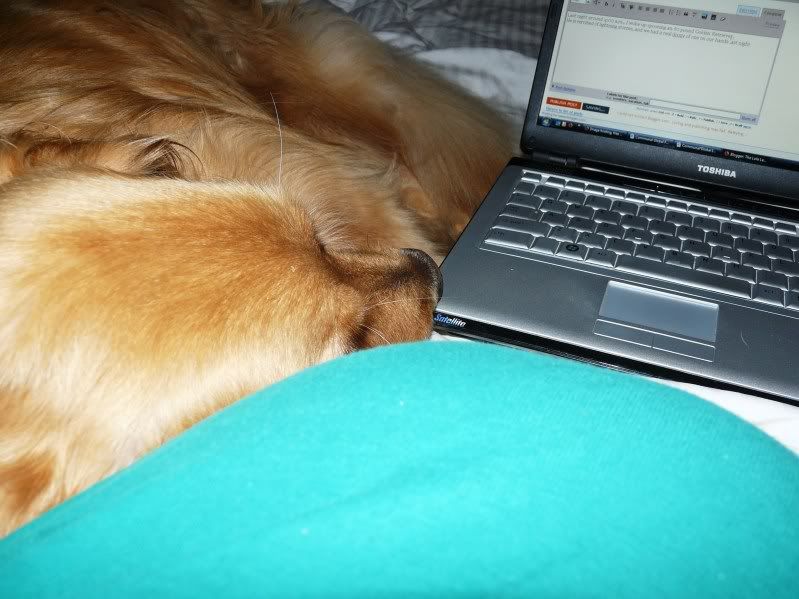 He is bigger now, and hasn't slept in bed with me for at least 3 years or so, but I'm grateful that there are still times when he needs me.
Froggy Three died today. He'd just celebrated his 2nd birthday on the 24th of July. He was the last survivor of the four carnival water frogs that Uncle Drew helped him adopt two years ago. I didn't expect my little guy to be as heartbroken as he was. He took Froggy Three over to the toilet and dumped him in. Daddy asked if he wanted to say any kind words. Kort just shook his head. His eyes were wet, and I'm sure his throat was in something of a strangle-hold (don't you just hate the "trying not to cry" knot that forms in your throat sometimes?) Then, with a heavy sigh, he flushed the toilet.
He ran into his room, climbed into his loft bed, threw the covers over his head, and let it all out. I climbed up there, tickled his back, and had a nice, long bawl right there with him. Not because I'll miss Froggy Three, (or cleaning his mossy, stinky aquarium) but because my little guy was hurting.
...and it may also be because I am 39 weeks and 4 days pregnant and just ever so slightly hormonal, tired, and emotional...maybe...
The hubs came in to find us sobbing in Kort's bed. I smiled at him and rolled my eyes in an effort to acknowledge the wrecked ridiculousness of my current state. He then motioned towards Bella (who was worriedly staring down her boy) and whispered
"What on EARTH are we gonna do when we lose
her
?!"
I laughed out loud and said "Institutionalize the lot of us!"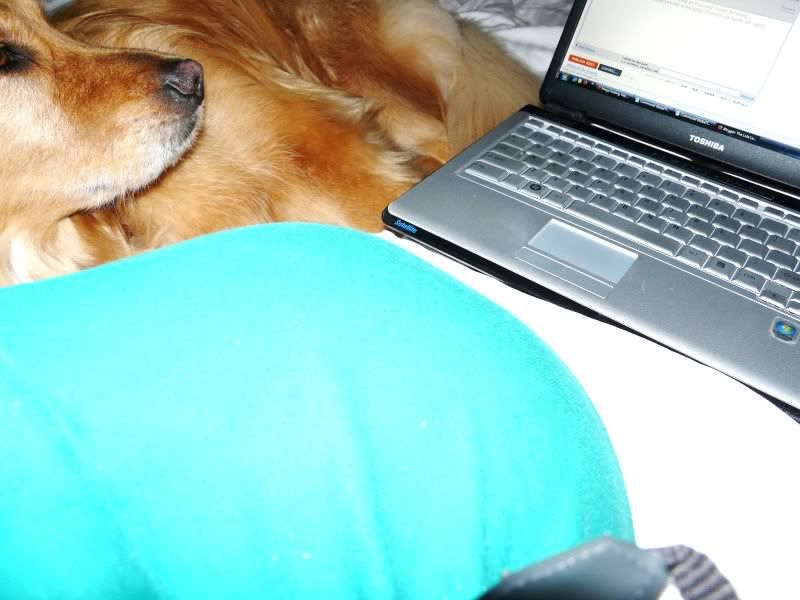 Other special parts of today included:
*Me, making a killer Asian Stir-fry dinner that my boys gobbled up like starving hobos. (success!)
*Laying in bed all morning with the hubs and talking while he massaged my hands and tickled the insides of my arms (don't you just love it when someone tickles the insides of your arms?).
* The smell of rain getting pumped through the house by our trusty swamp cooler.
* The sound of the rain on the tin roof over the back porch.
*Laying in bed (yes, with an 80 pound Golden Retriever) for most of the day and reading...and sleeping a little bit too.
What was your favorite part of today?