That my poor little dude has officially inherited my (terrible, horrible, no good, very bad) tendency to get intense (and sudden) bloody noses.
(I also learned that he picks his nose in bed...like, a lot ;)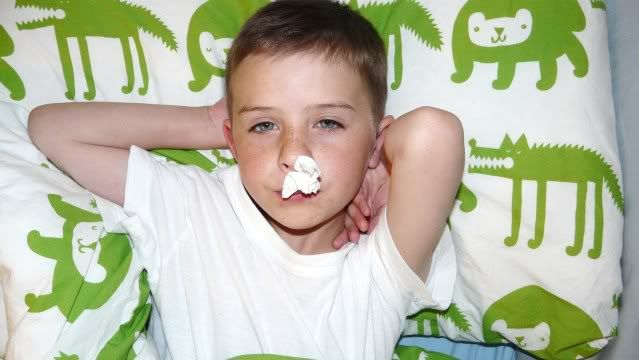 Did you know that I used to get horrible bloody noses as a kid? Well I did...and we're talking h.o.r.r.i.b.l.e. with a capital H!
We're talking
bleeding until I was dizzy or unconscious.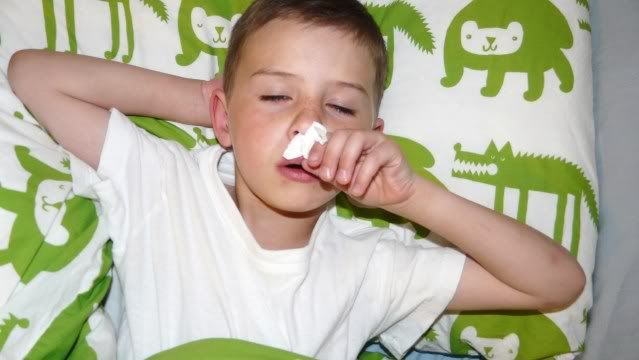 We're talking
sitting in class at the Jr. High (SO NOT picking my nose, btw) and suddenly feeling that terrible, tickle-y trickle, and knowing (only a split second before the mortifying "first drip") that I was in trouble, and grabbing my nose, and throwing my head back, and saying to the teacher (in a cartoon-y, embarrassing voice) "I hab a bloody mose!" as I ran out of the room...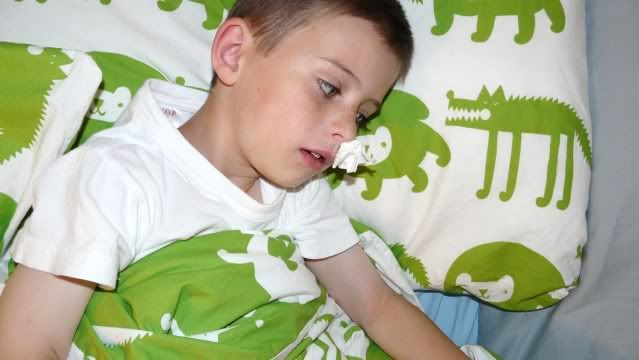 We're talking
bleeding for two-hours straight while staring hopelessly into a dingy-white honey-comb tile floor in the girl's bathroom, and getting so frustrated and angry that I was reduced to sobs (which inevitably made the bleeding pick up speed and last longer).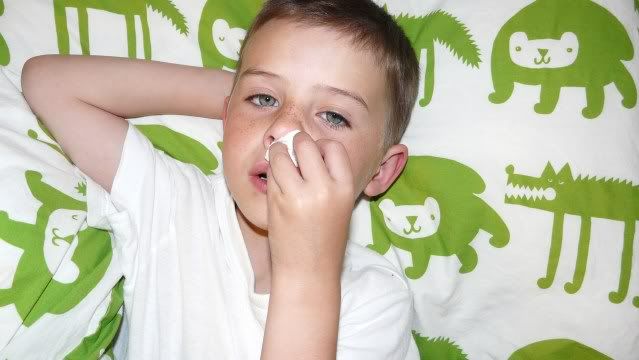 We're talking
finally going to the principal's office when I know it isn't going to stop, (and I can hardly walk because I have about half as much blood pumping through my veins as a NORMAL person would/should have) and having any number (like, at least 6) of stupid (ahem, I mean, "well-meaning") adults say "Just put a cold compress on your neck and tilt your head back." to which I would have to reply (miserably...through a bus-sized tissue covering the entire lower region of my face) "I can't tilt my head back, it'll make me bomit bwood." (And yes, you really do sound like a two year old when trying to talk through 16 layers of tissue and a pinched nose.)
We're talking
mom coming to get me and then taking me to the clinic...
we're talking
cauterization (you know, when they stick a red hot poker up your nose and burn the blood vessels to kingdom come) after cauterization, after cauterization, and it doesn't even help, but gee the process of having red hot pokers stuck up your nose is just so much darn fun in and of itself, that really, heck, why not give it another go round?
So, I guess what I'm saying is: I really hope that he only "sort of" got my bad nose genes.
And, come what may,
I especially hope that he'll stop picking his nose in bed...especially since I just got him a brand new IKEA comforter/pillowcase set. It's just so darn cute... don't you think?
It'd be a shame to cover it with boogers...
The ladies of
Communal Global
are hosting their weekly blog-link party, and today they want to know - What have you learned recently? Write and post about it on YOUR blog, then link up here (below) or at CG (same difference) and share your new-found wisdom with us! Link back to communal global and tell your friends to join in! You can learn something from everyone you meet - so come on - smarten us up! Now you know that my little dude picks his nose in bed and possibly has inherited my curse for the terrible, horrible, no good, very bad bloody nose! Aren't you so much better for the knowing? I know! Right?
....Ri--ght?