The girls at communal global want to know what you're "today" is looking like. (and I have to be honest, I'm sort of wondering myself...) So go there, link up, and share with us! As for me, well, my day is full of messes and lots of letters.

Dear Lola,
How did you let it come to this? Does one REALLY need 100 some-odd gift bags...90% of which are much too ugly/ratty to ever be used again? I think not. And the scrap-booking stuff? Seriously? You haven't scrap-booked since Kort was two. And, in case you haven't noticed...he's six, chick, SIX! Almost seven, in fact. Let it go. You're not going to scrapbook. Welcome to the digital age, sweetie. It's about time.
Dear Hubs,
Some of this is your fault too, Mister! (Although...not much of it, if I'm being honest.)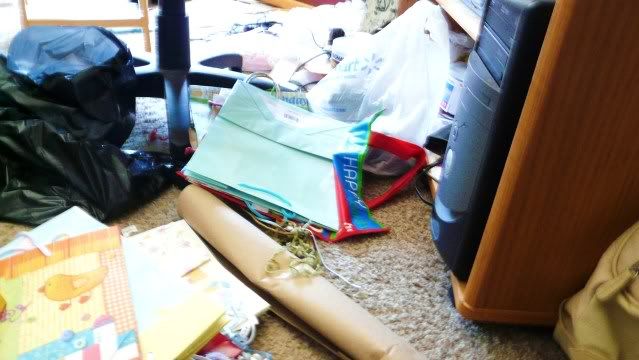 Dear Lola,
How hard is it to dust a book shelf once every couple of months? Honestly? Ew, woman!
P.S. and Twilight? ...Seriously?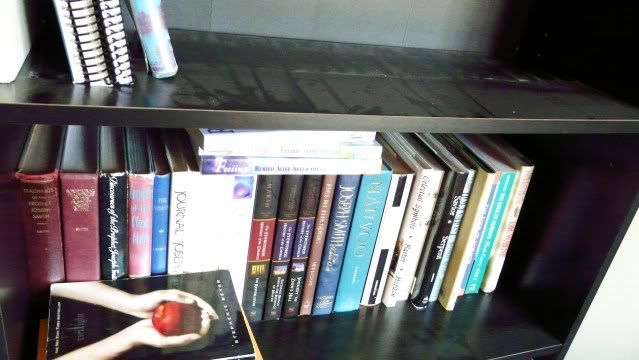 Dear Baby Bob,
Don't be freaked out by all this mess...PLEASE still come to our family! Your new nursery will be the sparkling jewel of our home, I promise you that. The current state of this:
"office/one-stop-stash-it-all/room of shame/den of sorrowful (infertile/frustrated) feelings"
in NO WAY symbolizes our feeling for you, my precious, sweet, delicious little womb nugget.
Dear Kortland,
That's right little buddy. Smile it up. You may have gotten away with running off on "the scoot" with daddy before your mother noticed the unsightly state of your bedroom THIS TIME... but next time, I won't be drowning in a dusty, cluttered office/pit of despair and I will be on top of my game! I'm on to you, mister. So soak it in while you can bubs - when you get home, there will be some serious cleaning to do!
P.S. Thank you for remembering to wear your helmet. Also, the aviators are a nice touch. Good on ya!
Dear Lola,
While Kort's room may be cluttered and messy, DO go ahead and pat yourself on the back - the remodel is coming along nicely!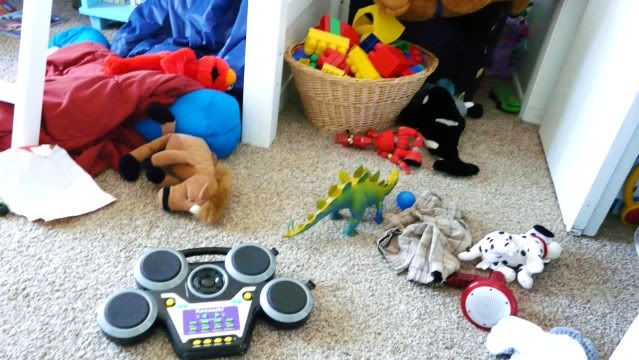 And don't forget to be thankful for a cute little boy who makes his dad a Father's Day present a whole week early. (All wrapped up in colorful, retro "Happy Birthday" paper...no less.) It's always good to savor the small victories when you feel like the junk in your house is eating you alive...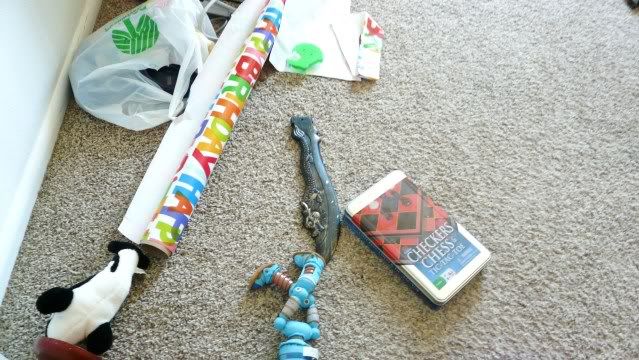 Dear Lola,
And you know that polka dot table cloth you bought at the Target Dollar Spot?
Good find, woman!
(But, you should have bought at least five of them... I'm just sayin'...)
Dear Bubs and Bells,
You stink...and your hair is everywhere...and sometimes you bark and bug our neighbors...and BOTH of you seem to take turns passing the kind of gas that could knock out a rhino...but man, I love you. So does your boy. You are so darn good to him.
Dear Lola,
Take a deeeeeeeeep breath. That's right. Just breathe. Everything is going to be fine. Never mind the fact that you still need to:
Clean out the garage so that you can move all of the stuff from the basement into there, and then move the basement stuff into the garage and then dry wall, and paint, and carpet, and tile, (and did mention paint and paint and paint and paint?) the ENTIRE basement, so that you can THEN move the office into the basement, and THEN paint Baby Bob's nursery, and ALL of his nursery furniture, and also a new piece of furniture that is going into Kort's room to replace the dresser that you are stealing from Kort's room to put into Baby Bob's room, PLUS all the the old filing cabinets that you need to A- find for a great deal (does anyone know where I can find filing cabinets for a great deal?) B- Purchase for great deal C- repaint a cute robin's egg blue for a great deal and then D - move all of my office, craft, and "important tax and other document information" into in the dining room so that Baby Bob can FINALLY have a room all his own, and we can FINALLY have a basement after FOUR YEARS of living in this house...
And never mind the fact that you need to do all of this in the next 5 weeks...
Never mind all that, Lola.
Just take a deep breath, Reeeelax, take it one step at a time and...
Oh, who am I kidding?
Go climb into bed, have a good cry, and call it a day.
You loaded the dishwasher for heaven's sake, what more can you ask of yourself, really?