I just really had to share this with all of you!
The hubs stumbled across
this story on ksl.com
today and I thought it was inspirational and insanely facinating! It's about a child prodigy artist named Akiane (ah-kee-ah-na) whose work is currently on display at the Patrick Moore Gallery at 511 West 200 South in Salt Lake.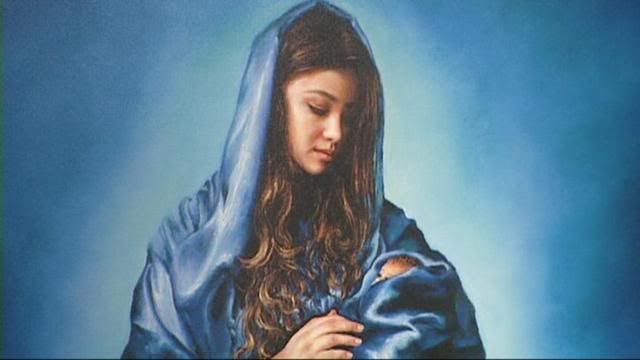 (Painted at age 11)

Here is a snippet of the article that I found MOST facinating:
Akiane Kramarik says God told her to create works
of art and even gave her the visions for them,
starting when she was four.

The only problem was that her parents were atheists.
"At first when I had the dream and the vision,
I didn't quite want to tell my mom or my dad,
it was just between me and God," Akiane says.
"But a couple weeks later, I did tell my mother
and she listened and she believed in me."

Her images of Jesus Christ are sought-after.
She says the light side of his face represents heaven
and the dark side represents suffering on earth.

I think that is simply incredible! If your parents were atheists, and the only thing you were ever taught was that "there. is. no. God." PERIOD. How, (i repeat h.o.w.) ...okay I have to say it a little more: how? how? how? how? how? HOW? (And where where where where WHERE?) would you get the idea that there is a God? How? Where? From whom? I think a child trusts the teachings of their loving parents over and above and beyond pretty much anything else anyone can do, or say, or tell them. This makes me think (okay, know) that she really must have seen God. Her parents are no longer atheists.


It has simply blown my mind on this, a lovely Thursday morning in April. I am SO going to the gallery (next week-ish sometime). Want to come? We should girl's night it. Dinner, gallery, dessert, home. Sounds like heaven to me.

Her paintings and poetry (which is also mind blowing) will be on display in Salt Lake through June 2nd.
You can see much more of her incredible work on her website:
akiane.com
Don't forget to enter ALL of the different giveaways for "Five Days of Giveaways!" (Scroll down to see all of the giveaway posts below). Tomorrow, I will announce the final giveaway and then you will have until Midnight to enter all 5 of the different drawings! Good luck :)